Old but gold, I came across the Bruh Automation Multi-sensor video about 12 months ago. Intrigued, I set forth and built a couple of these Wi-Fi devices. Over the year I have iterated on the design and software – getting to a place where the sensors themselves are reliable for use in environment monitoring and automation flows.
Part Selection
The final parts list is as below:
BH1750 light sensor
AM312 PIR sensor (anything else seemed to produce false triggers)
NodeMCU v1 (Amica, not Lolin version)
Red LED (used to show PIR triggered)
470 ohm resistor
DHT22 Temperature/ Humidity Sensor
Header wires
USB Power Supply
3D Printed Case (I used 3D Hubs to print this)
I tested several sensors in arriving at the specification outlined above:
RCWL-0516 (this was *far* too sensitive, would pickup movement in another room/ behind a wall/ door and even outside the house itself)
TEMT6000 (poor low-light performance)
LDR (poor low-light performance)
Various PIR sensors (all of which generated false positives on a regular basis, likely wireless interference)
NodeMCU Lolin boards (these will not fit in the case!)
The Case
Different electronics demanded a (slightly) different case, I also found the original case to be somewhat "cosy" – it was a real squeeze getting everything into the 3D printed case. I ended up iterating on Ben's design, modifying it to be taller, with a cut out for the BH1750 to sit on top. You can see/ download the revised design at Thingiverse.
Software
My initial goal was to use the PIR as a trigger for a Node-RED-based automation that would switch the MQTT-enabled lights *OFF* in a room where there had been no movement for some time. The sensors, and modified code worked well for this purpose, however I started to run into issues as I expand the use of the devices, namely:
When collecting data in InfluxDB, measurements would sometimes come through as zero, despite previous/ next being nothing close
Occasional hanging/ freezing, requiring power reset
Tasmota to the rescue! I've been using Tasmota-powered MQTT/ Wifi light switches throughout my house for a while and it hadn't dawned on my that I could use the same software in my multi-sensors.
Using the configuration below, with the device set to "Generic (18)" I was able to get like-for-like performance/ functionality (including the PIR triggering the red LED on motion) without the hanging/ zero-value measurement issues: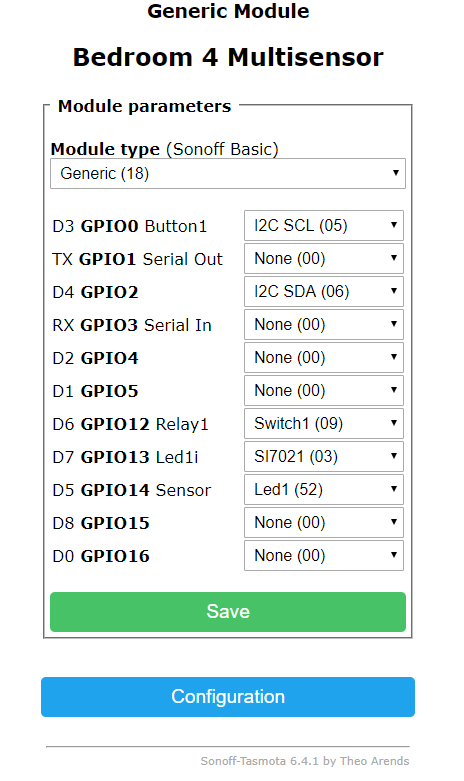 Wiring diagram below for reference: